I just did a vero layout for this effect. I don't know exactly what it does or what it sounds like, but I'm intrigued. I may build this one and verify it myself one of these days. Let me know if you beat me to it.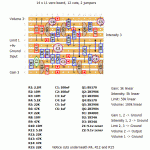 Update (26.08.2011): Put this one together tonight and it works like a charm. Verified!
Update (21.10.2011): Built this one a few nights ago.
The effect is pretty cool, maybe a bit narrow in its usage, but I'm most exited about the LED bezel. What a fantastic bezel! (Got it from banzai).