Threw this one together last night. Not yet verified, but I'm hoping you'll let me know if you give it a try.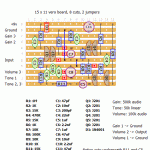 Update (25.09.2011): The layout is now verified. Thanks to Hookey.
Update (09.10.2012): I was asked to refrain from using the company and product names, so layout has been updated accordingly.