I was recently made aware of a few effect pedals designed as static Wahs, and while I've stayed away from Wah pedals in the past because of the inhibiting cost of the hardware these effects used a regular pot to manually set the frequency. Not really a new idea, but I figured I'd make one and add an expression jack so it can still function as a normal Wah if I want to.
I didn't have any schematics of these effects, but instead drew my own based on a basic Wah circuit and a few common modifications, as described in an article called "The Technology of Wah Pedals" by R.G.Keen over at Geofex.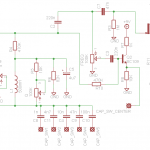 Here's a vero layout of the same Wah except I only included three different capacitors for the cap selection switch. I built this last night and it works nicely. The only thing I'm still not sure about is the orientation of the "Frequency" pot. I might have that one wired in reverse, but I'll find that out once I try this with an expression pedal.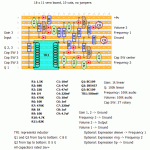 I'm planning on housing this in a 1590BB enclosure with regular knobs for all the pots and a TRS jack that disengages the "Frequency" pot when an expression pedal is connected. Looking forward to this…
Update (28.03.2011): Updated both schematic and vero layout. After some rewiring all pots should now work as intended.
Update (29.03.2011): Apart from labeling and adding some knobs my new Wah-in-a-box is now finished! I housed it in a regular 1590BB enclosure and added a TRS expression jack. The controls on the front should say (from left to right) "Volume", "Q", "Frequency", "Gain" and "Sweep range" (this is a 3P rotary). You can disengage the "Frequency" pot by inserting a TRS cable and add an expression pedal at the other end giving you a regular Wah to play with. I really like this one!
Update (20.10.2011): Fixed dead schematic and layout links.