I figured I wanted to try a DI box for recording without having to set up a microphone etc. A colleague of mine recommended the Hughes & Kettner "Red Box" as an excellent specimen, and I was able to locate a schematic for the MkII version. Being a small circuit creating a vero layout for this one didn't take long. I haven't confirmed it yet, but will do so soon.
PS! Be careful if you decide to build and try this. Always connect a load to your amp, be it your regular speakers or an attenuator, otherwise it can be damaged.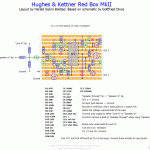 Update (20.01.2013): Finally verified, thanks to Alexander.