I'm working on a Baja Trembulator, a tremolo circuit Bajaman from freestompboxes have designed based on the Demeter tremolo. Since I haven't gotten into etching my own PCBs yet I thought I'd do a vero layout and try it out. I haven't actually created the circuit yet, but I believe the layout is finished. Just waiting for the parts to arrive in the mail now…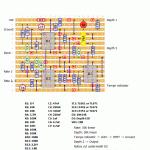 Update: Built the circuit last night and discovered a mistake on the layout. I had forgotten a cut between C3 and C4, and both pots were reversed, all of which has been corrected now. Layout hereby verified.
Update (07.06.2010): Finished up my Baja Trembulator build yesterday and what a beauty. It sounds great too.
And yes, I accidentally soldered the IC3 socket the wrong way.
Update (20.10.2011): Fixed dead picture links.
Update (10.11.2011): I accidentally attached the wrong layout (wonder how long that one's been up). This is now fixed, but you may have to hit refresh.