Here's a vero layout of the Fulltone OCD based on a schematic by tuemmueh of freestompboxes.org. This particular one corresponds to revision 3, but you can change this to revision 1 or 2 by changing a few values (according to the schematic).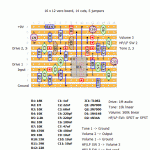 I built the circuit today. Swapped the "Drive" and "Tone" pots compared to the schematic, and I'm now very happy with the result.
Update (08.11.2010): Having heard a lot of praise I wanted to try the Fulltone OCD overdrive pedal myself. It's certainly a good overdrive, but haven't yet decided whether I like it. Regardless, it was fun to build!
I didn't have a TL082 in my parts bin so I substituted a TL072 instead. Will give the TL082 a try once I get a hold of one.
I keep thinking I want to find a better way to mount the circuit boards inside the enclosures. This time I put a pair of double-sided tape pads on the back of the "Tone" and "Volume" pots and fixed the underside of the board to this. It works nicely and is a step in the right direction, I think.
Update (20.10.2011): Fixed dead picture links.