frequencycentral of freestompboxes.org recently designed a chorus based on the PT2399. From the audio samples it sounds really nice, and having a few PT2399's lying around I thought I'd build one. Here's a vero layout for the "Little Angel" mini chorus. I haven't verified it by building it yet, but I have double checked the layout (though one can never be sure).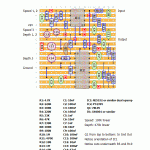 Update (27.11.2010): Thanks to Paul this is now verified.
Update (09.04.2011): Following this thread over at freestompboxes.org a fix addressing the issue of some PT2399's "locking-up" was proposed by mictester, and I've added a second layout for those of you having trouble with the first one. The board size is the same, but a few cuts, jumpers and components have been moved or added. I'm sure it's possible to work this into an already completed circuit, but it's going to be a fair bit of work.