You requested it and here it is, a vero layout for the G2D Cream Tone. I don't know what this effect sounds like and I haven't verified the layout.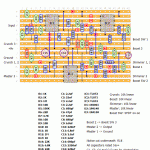 Update (21.02.2011): Added polarity labeling to some of the larger capacitors.
Update (24.08.2011): Changed a few large caps to electrolytic type and fixed a jumper mistake on IC2 VCC+. Verified as working.