Did a vero layout of the Merkin Fuzz today. Haven't verified it yet, but it looks to be OK. Will update once I get around to build it or breadboard it.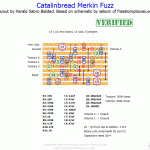 Update (08.11.2010): And here's my take on the Merkin Fuzz. Fitted a pair of strange chicken head knobs that I think I once got from Das Musikding. Overall I have to say I really like how this effect sounds. Using the texture pot and the tone pot on your guitar you can dial in several distinctly different fuzz sounds.
Update (20.10.2011): Fixed dead link to the layout.