Older vero layout for the ProCo Rat with a few mods: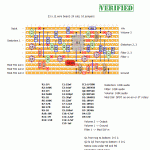 Vero layout for the ProCo Rat with a few more mods based on a schematic from beavisaudio. A few errors in the schematic was corrected, and the mods have been modified to accommodate a 5-way rotary switch.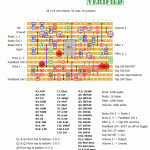 Update (11.11.2010): Finished my second ProCo Rat build. This one comes with a lot of options, courtesy of beavisaudio.com. You can choose between stock, LED and Mosfet clipping in the feedback stage, and there's a rotary switch with 5 clipping options following the IC (stock diodes, no diodes, asymmetrical diodes, LEDs and Mosfets). And there's a Ruetz mod (extra potmeter) that can be bypassed with a switch.
Not sure if I'll ever use all these options, but they were fun to build. If I could change one thing I'd remove the Ruetz pot bypass switch altogether.
Update (28.11.2010): The rotary switch shaft was sticking out a fair bit more than the other pot shafts, so I added a couple of washers to the rotary on the inside of the enclosure. Looks better now.
Update (20.10.2011): Fixed dead layout link.