Here's a vero layout I just did for the Vibrotrem designed by Bajaman over at freestompboxes.org. I have yet to verify this so let me know if you give it a try and it works.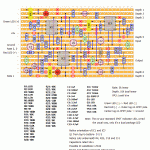 Update (11.06.2011): Thanks to Jim this is now verified as working.
Update (19.10.2011): Built this one a few days ago and here's how it turned out (didn't have any suitable knobs at the moment).