This one was requested a long time ago. Here's an overdrive pedal that uses an actual preamp tube, which is quite exciting.
Based on Bajaman's schematic I created a layout with wiring for the tube pins (since I can't imagine a tube socket fitting neatly on a piece of vero board). I left as much space as I felt was necessary for the large supply caps, but I'm afraid it could still end up being a bit crowded. The effect uses a preamp tube of type ECC83 / 12AX7, and I guess you would need some ventilation in your enclosure. The wiring explanation is a bit convoluted as well, sorry. I really should draw a proper diagram for this.
Do note that this effect requires 12v AC power and not DC like most other effects. Use a small mains transformer or a good 12v AC power supply, and be careful when playing with mains power. Don't do it if you're not sure how to do it safely.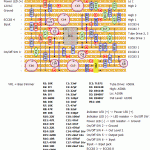 Update (09.09.2012): Thanks to several of you for verifying this one!
There's also been reports of this being quite noisy, and I'm happy to pass on coi2001's suggested fix; leave the heater resistor off the board since that's the main noise source. Run the 10 ohm resistor (R16) from the 12VAC source (probably a trafo in most cases) straight to the heaters.
Update (09.05.2013): Here's my own build, in a slightly taller 1590BB enclosure I got from smallbear (I think they call it the 125BB) which gave just enough room for the tube. Left the heater resistor off the vero board, as was previously suggested, and set it up to receive 12VAC external power (no room for a transformer and power socket obviously).
Sounds great and there's very little hum, just a small amount when drive is full on! 🙂