Three boosts in one box. You choose which one to use by means of a rotary switch. Looks like it's the AMZ Mosfet Boost, the LPB-2 and the Dallas Rangemaster.
I was tempted to add a separate gain/volume control to each boost and it would have also been cool to have some sort of stomp toggle switching (maybe CMOS?)  between each, but I decided not to complicate things and just leave it as is. I did however add 1M resistors to the output switching as I'm fairly sure those capacitors hanging there could produce some noise when operating the rotary switch. Feel free to leave them out if I'm wrong, though (R15-R17).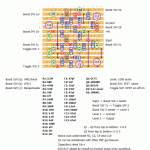 I did add some textual description on how to wire the indicator LED(s), but by now I'm quite comfortable with most wiring and I can't really remember how I used to have to wrap my head around this stuff. If you're just getting into this hobby and get a headache trying to decipher what I mean I'm really sorry. Drop me a line and I'll consider adding some more illustrations.