I wasn't able to find any schematic for this effect, but from what I've gathered it's a combination of two other effects, the "Torn's Peaker" and the "Sode Meiser", wired in series so here's a layout for each of those instead. Pot tapers are guesses, both layouts can use PCB-mount pots if you'd like. Let me know if you build any/both. And thanks to Devi Ever for the effect schematics.
Torn's Peaker layout: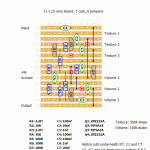 Soda Meiser layout: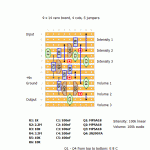 Update (31.01.2012): Swapped C2 and C3 on the Torn's Peaker. This one is now verified, thanks to Milkit and MikeT.
Update (10.02.2012): Built the SodaMeiser the other day, which worked as advertised. Verified.