This one is supposed to give you some of that Dumble sound everyone and his dog is looking for. I'm not that happy with how the layout came out, I feel there's a good bit of wasted space on the right-hand side, but the important thing in the end is how it sounds (no idea yet, let me know if you build it 😉 ).
This is going to be a bit of a challenge for a few reasons. You've got 7(!) pots and two extra switches with a lot of wiring to go with it, but the main challenge is going to to be tuning all those JFETs (check out the FAQ section for some info on this).
I've kept the component labeling identical to the original schematic with one exception; I changed the names of the JFETs and trim pots so that Q1 coincides with VR1 and so on. The FET/trimmer combination is also numbered according to where it comes in the signal path, so if you're tuning this with e.g. an audio probe you start at Q1 and proceed from there in numerical order (remember that Q3 and Q4 can be taken out of the signal path based on the Drive switch).
Good luck! 🙂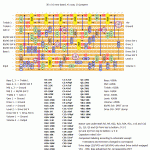 Update (04.02.2013): Thanks to Graham for verifying this one 🙂