I don't know much about this effect other than it's a tremolo of some sort, and I'm sure it sounds nice. Let me know if you verify the layout.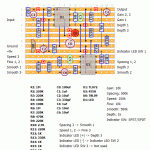 Update (13.12.2011): Thanks to Mark for verifying the layout as working.
Update (10.02.2012): I finished my build tonight. The internals look a bit messy 'cause I didn't really feel like being too neat this time; just wanted to get this thing up and running. It's great fun and a cool project.
Update (15.02.2013): As requested her are working voltages from my own build for debugging purposes:
Battery at 8.97v, all pots fully CW, and speed indicator LED on and flashing quite fast.
| | U0 | U1 | U2 |
| --- | --- | --- | --- |
| 1 | +7.53V | +3.76V | ~+4.5-5V |
| 2 | 0V | +3.76V | ~+4.8V |
| 3 | +8.97V | +3.74V | ~+4.9V |
| 4 | | 0V | 0V |
| 5 | | +3.74V | ~+4.8V |
| 6 | | +3.76V | ~+4.8V |
| 7 | | +3.69V | ~+4.8V |
| 8 | | +7.54V | +7.54V |