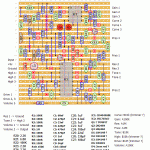 I'm checking in today posting a layout for just another dirt box. This one, however, seemed a bit more interesting than your average tube screamer; or at least the schematic did. I'm not sure how this thing is going to sound, but hopefully it'll work at least. There are a few unknowns, specifically the MOSFET and the clipping diodes, but I'm guessing these can be common substitutes for the most part.
The layout is based on a schematic from this forum thread.
Update (18.02.2014): Now verified as working, thanks to Freppo!