Make your guitar sound more like an acoustic. Mark Hammer's schematic and design documentation can be found here. Apparently there are a few conditions that need to be met for this to sound good (read the info that goes with the schematic).
I'm not a big fan of effects requiring a bi-polar/non-standard power supply so I have attempted to incorporate a charge pump to obtain +9v/-9v in-circuit from a regular +9v power supply. I'm thinking this will work, but I haven't tried it yet. If you go with the 7660 IC make sure you use one with an "S" post-fix to avoid high frequency noise.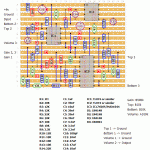 Update (19.02.2013): Now also verified, thanks to Earplane.