Here's a vero layout for the Zvex Fuzz Factory with board mounted 9mm pots. This will work with the miniature Alps pots they sell at Elfa, but I'm sure the 9mm alpha pots will also fit. I'm unsure whether I've left adequate space between each pot, but expanding the vero with an additional strip between each pot shouldn't be too difficult.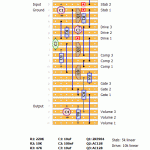 Update (04.11.2011): After having measured the pot distances on the first layout I decided it was way too narrow. Here's a stretched out version that should fit a lot better in a Hammond 1590B.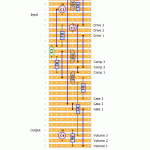 Update (10.11.2011): Restructured the layouts because both "Stab" and "Drive" pots were reverse.
Update (12.01.2012): I finished the large version tonight so that one's verified.
Update (10.02.2012): Got around to boxing this thing last night. This is the larger vero layout with on-board 9mm pots and I'm very happy with how it came out at the end.