I discovered smallbear sells pre-colored enclosures! Even though I'm all about functionality I have to admit it's pretty neat. I always wanted to play with an octave fuzz effect, and I guess the classic Tycobrahe Octavia would be a good place to start.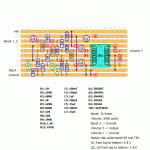 I had to drill slightly larger holes in the vero board to accommodate the wider transformer chassis pins.
Update (25.05.2012): Re-oriented C5 which was sitting the wrong way. Thanks to Marcus for spotting this one.